An actual paid gig!  so slight delay in boat building.
here's the structure of a built-in desk so far: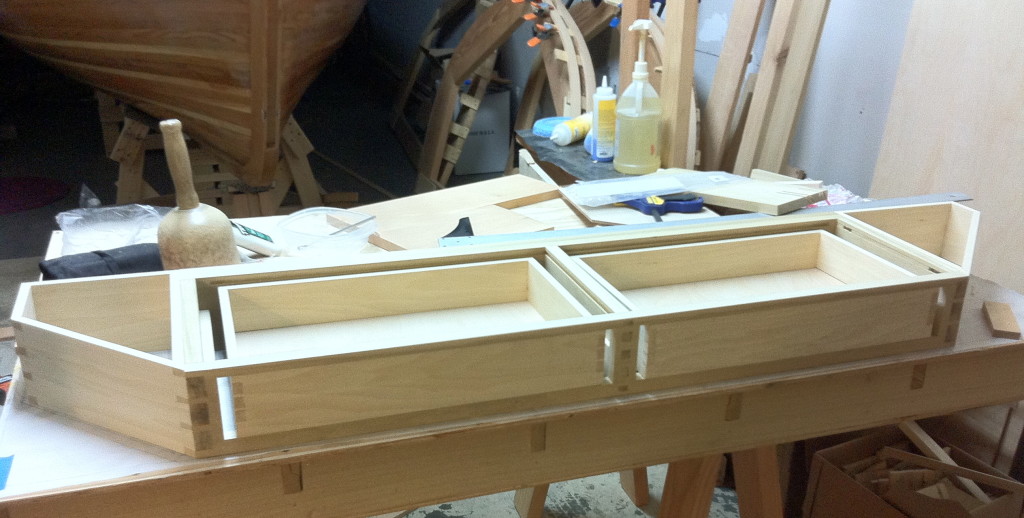 lots and lots of dovetail joints. 20 by my count, plus a couple of mortise and tenon joints. (the space around the drawers is for metal drawer slides per client request.)  clamping non-90-degree dovetail joints is an incredible pain in the ass.  sadly most of the joinery will get covered by a facia or drawer fronts.
the desk will be cantilever, bolted to the wall and the section to the far right will have a flip up cover to store things like phones and chargers. there will be a pass through hole from the bottom for the power cords and a similar hole in the top to allow for neat power cable wrangling while sitting at it using a computer and such.
the client requested a douglas fir top to match the surrounding decor, and I'm wondering what finish to use to prevent, (or at least minimize,) damage.  I would have preferred to use something a bit more durable, or at least less prone to easy dents, but such are client requests.