A little while ago, I posted a bit about a chair I built. One thing that was lacking about that chair was an ottoman. I actually built the frame of it a long time ago, and was convinced to let someone else finish it. now 2 or 3 years later, I got tired of waiting.
I finally finished turning and carving the legs, I finally decided that given the patchwork nature of the original upholstery job, it would be kind of fun to mismatch the legs.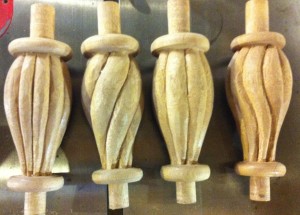 On top, I decided that I would upholster this in a slightly less sprung way than the chair. The chair has a sprung deck, on top of which sits a sprung cushion, (see below.)
The hassock, by contrast, is getting a marshall unit, (pre-wrapped spring set,)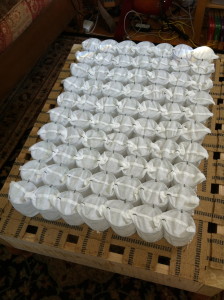 directly onto the webbing, then surrounded by felt, foam and cotton batting.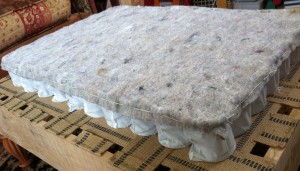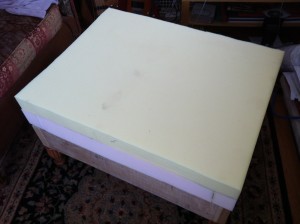 so far I'm up to the foam rubber. the next step is going to be to make a light weight calico bag for the cushion top that will encase the foam and a couple of layers of cotton batting so that I don't have to worry about abrading the foam or messing anything up with the outer fabrics.
btw, here's a basic rule of thumb about upholstery. it basically breaks down into a few simple steps. start with an uncomfortable frame. then add progressively less uncomfortable layers of padding wrapped in progressively finer fabrics until you're done.  so long as every layer is pretty secure before you go on to the next layer, the rules are pretty loose… sounds tongue-in-cheek, but it's pretty much how it's done. For example:
first the frame: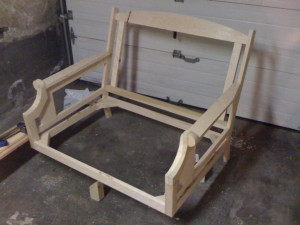 then webbing and springs: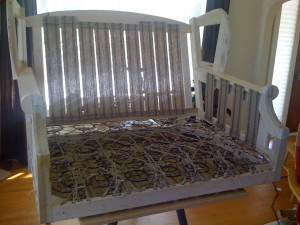 then burlap/felt: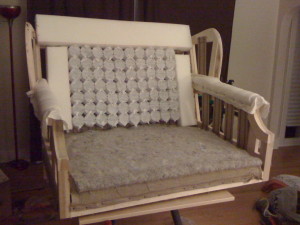 then nice cloth: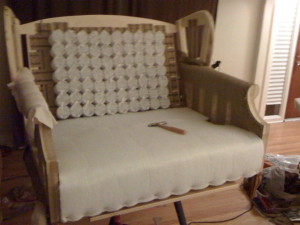 then nicer cloth: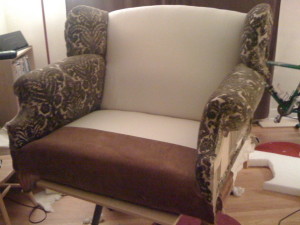 n.b. for the foam rubber, around seattle you can go to pacific fabrics or joann's, but I heartily recommend going to friendly foam over on Roosevelt in the U district. I've bought from them under both the old and new management, and the new owners remain quite friendly and knowledgeable. (and substantially neater…)  they also have a much wider selection of foam types to choose from.